Every family has its own favorite treats and our family is not an exception. Since having kids I learned that kids, mine anyway, like simple and tasty things, colorful and fun. So it is no brainer that Chocolate Brownies with M&M's are always welcomed in our household. And really, what's not to love? Fudgy, gooey chocolate brownies with kids favorite colorful candies! We have two favorite brownie recipes in the family and this one calls for lots of unsweetened cocoa powder instead of a chocolate and plenty of butter and sugar, and M&M's add this perfect kick of crunchiness, color and extra flavor!
These brownies are very easy to prepare as you basically just mix all the ingredients together and is ready to be baked in less than 10 minutes. And the fun part – kids love making them! So, it wasn't really a surprise that for a newly assigned in school project to present a dish associated with a tradition in a family , my daughter chose the M&M Chocolate Brownies recipe. The thing is, I love Christmas and I love celebrating the New Year's. It's my favorite holiday: I love the songs , I love the presents, I love the Christmas tree with its lights and sparkly ornaments, and I love our tradition to decorate a Tree together. So, after the work is done and the tree is perfectly glowing, we have a picnic with Chocolate Brownies and milk by the fireplace. We have so much fun every year doing it! And what can I say? The M&M's brownies were a total hit in the school – we made extra pieces and they all were gone in minutes :)
Try the recipe and I am sure it will become one of your favorites!
Ingredient
1 cup butter
1 cup unsweetened cocoa
2 cups sugar
4 eggs
4 tsp. vanilla extract
1 cup flour
½ tsp. salt
2 cups M&M's
Directions
Preheat the oven to 350°F.
In a medium size pan over a medium heat melt the butter. Lower the heat and add the cocoa.
Tip: I always sift the cocoa before mixing it with other ingredients. It will help to prevent the lumps and make the mixing/melting process much easier. The easiest way to sift the cocoa (or flour) is to hold a sieve over the container you want to add the cocoa to and instead of shaking it and creating a mess with the cocoa landing all around your container, use the spoon to carefully push the cocoa carefully through the sieve.
Stir cocoa and melted butter until the cocoa is dissolved. Add sugar and continue stirring until the mixture is smooth.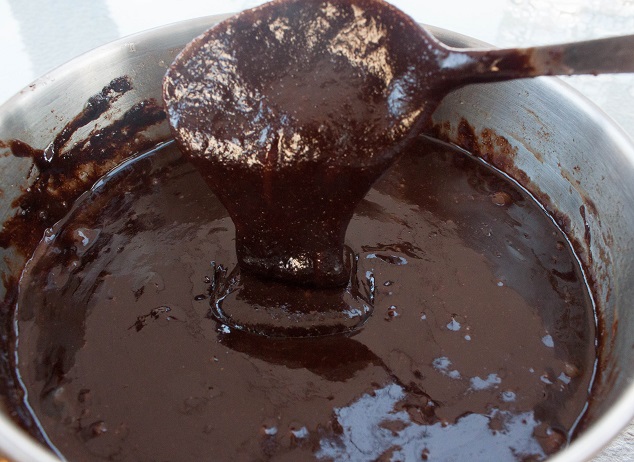 Remove the chocolate mixture from the heat.
In a separate bowl quickly whisk the eggs and add them to a chocolate mixture, stirring well to combine.
Add Vanilla, flour, and salt and mix until all the ingredients are combined. Don't overmix.
Fold in 1.5 cups of M&M's.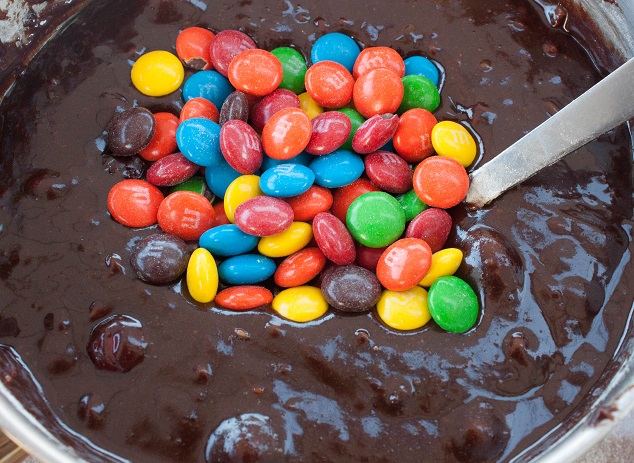 Grease the 13*9 inch baking pan or line it with a parchment paper. I find the later makes it easier to remove brownies from the pan.
Transfer brownie batter to a prepared baking pan, level and smooth it, and sprinkle with the remaining M&M's.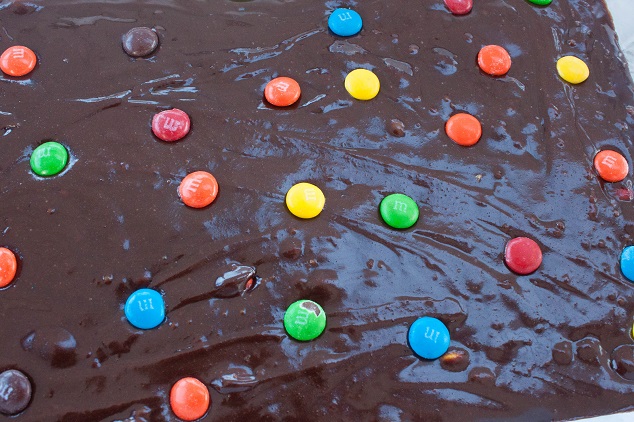 Bake for about 25 minutes or until the toothpick inserted in the middle will come out with moist crumbs, but not a melted chocolate. If the toothpick is clean, it means that the brownies are too dry. So, try to not overbake.
Remove the brownies from the oven and let it cool completely before cutting.
Enjoy these amazing moist fudgy Brownies with a cup of hot coffee or a cold milk, or with Vanilla ice cream on the side!
Ingredients:
1 cup butter
1 cup unsweetened cocoa
2 cups sugar
4 eggs
4 tsp. vanilla extract
1 cup flour
½ tsp. salt
2 cups M&M?s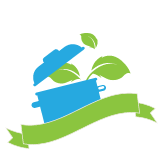 The Cooking Tale
Fudgy and Gooey Cocoa M&M Brownies
These incredibly addicting Chocolate Brownies are Fudgy and gooey with M&M's adding a perfect kick of crunchiness, color and extra flavor!
Ingredients:

1 cup butter
1 cup unsweetened cocoa
2 cups sugar
4 eggs
4 tsp. vanilla extract
1 cup flour
½ tsp. salt
2 cups M&M?s
Desserts
Please share this delicious recipe