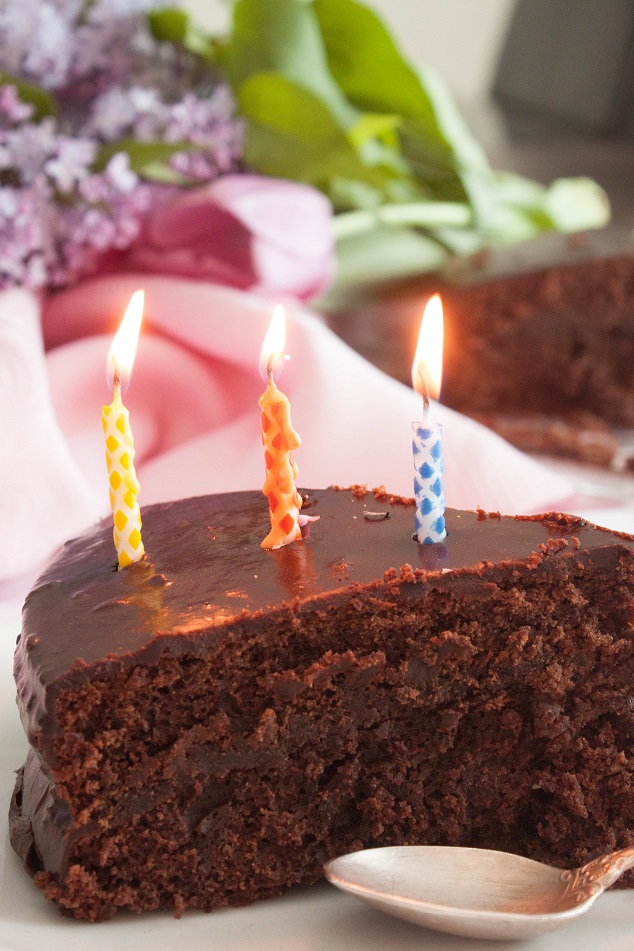 My daughter's Birthday was coming and I wanted to surprise her with a special cake. She is a picky eater in general and so goes for desserts as well. She is not a "Cake" person and there were years she didn't want cake at all, but asked for Chocolate fondue instead (everything that involves strawberries with chocolate she is ready to try). This year I really wanted to make a cake for her, something beautiful, with candles and sparklers. So, I needed to follow a couple of pretty strict rules: Chocolate cake, no icing, no cream, and no frosting…I found Hershey's "Perfectly Chocolate" cake and modified the recipe to satisfy my Birthday girl. The cake was amazing and exactly what I was looking for: very rich, moist, flavourful, and very chocolaty! And a bonus – surprisingly easy to make. So if you are a chocoholic like us, you will definitely appreciate this absolutely delicious cake.
Some of the changes I did in this recipe was adding espresso powder, which can be substituted with instant coffee, to both cake and chocolate ganache. I find that adding espresso powder really boost the chocolate flavor. Also, instead of a chocolate frosting used in the original recipe, I used chocolate ganache and not only covered the cake with it, but also spread it in between the two layers of the cake. Using the warm ganache will make the cake moist and almost fudgy.
So, this Double Chocolate Birthday cake was a great success and seeing my daughter's happy face, first making wishes and blowing candles, and then enjoying the cake (licking the plate – it is enjoying, right?) was very rewarding. Try this recipe and I am sure this cake will become one of your favorites!

Ingredients
Cake:
2 cups sugar
1 ¾ cups all-purpose flour
3/4 cup Cocoa powder
1 ½ tsp. baking powder
1 ½ tsp. baking soda
1 tsp salt
2 eggs
1 cup milk
1/2 cup odorless vegetable oil
2 tsp vanilla extract
1 cup boiling water
1 tsp. espresso powder or instant coffee granules
Ganache:
1 cup semisweet chocolate chips
1 cup heavy cream
2 tsp. espresso powder or instant coffee granules
Directions
Heat oven to 350°F. Grease 9-inch round spring baking form.
Stir together flour, cocoa, espresso powder or instant coffee, baking powder, baking soda and salt in large bowl.
In a separate big bowl, with electric mixer, beat eggs and sugar for about 3 minutes.
Add milk, oil and vanilla, and continue beating on medium speed for another 2 minutes.
Stop the mixer and add boiling water. Stir the butter.
Pour batter into a baking form.
Bake 30 to 35 minutes or until wooden pick inserted in center comes out clean. Cool completely, then remove from a baking form.
In a small pan, over a low heat, cook the chocolate chips, heavy cream, and instant coffee in the top of a double boiler over simmering water until smooth and warm, stirring occasionally. Remove from the heat.
Cut the cake horizontally into two equal layers.
Place the bottom layer on the cake stand or plate.
Spread half of the warm chocolate ganache evenly on the bottom cake layer.
Place the second layer on top and spread the remaining ganache over the cake, covering also the sides with the chocolate.
Let it cool for about 30 minutes and put a cake in the fridge for a couple of hours or overnight, before serving.
Enjoy!
Desserts
Please share this delicious recipe