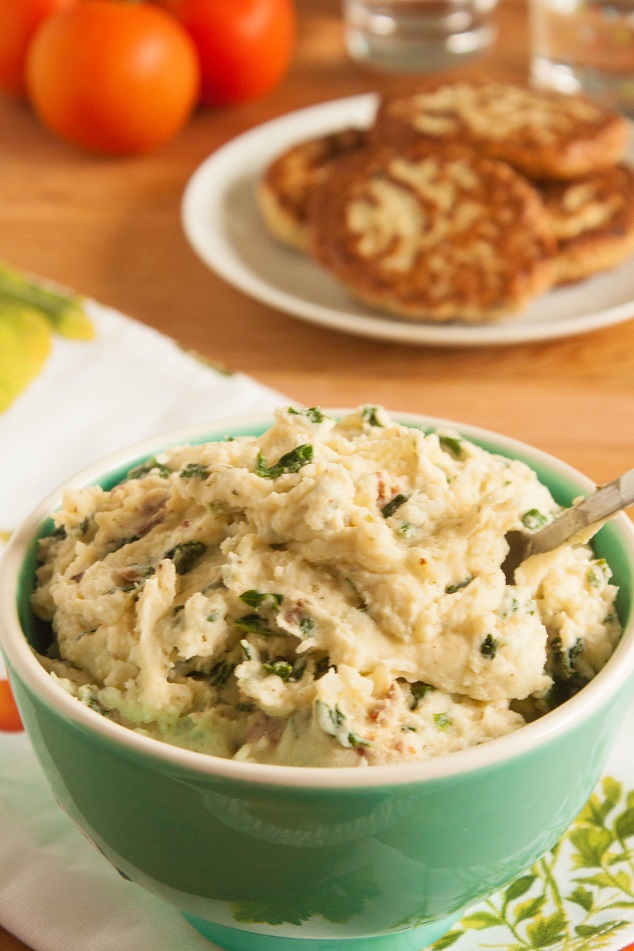 Ingredients
900 g Russets or Yukon Gold potatoes (6-7 medium size), peeled and cut into chunks
2-3 slices of bacon
2-3 cloves garlic, minced or squeezed
6 cups baby spinach leaves
125 g Philadelphia Herb & Garlic Cream Cheese Spread, room temprature
Salt, pepper to taste
Directions
Cook potatoes in salty water for about 20minutes until tender.
In the meantime, cut bacon to 1/4-inch squares and fry it for about 2 minutes, stirring frequently.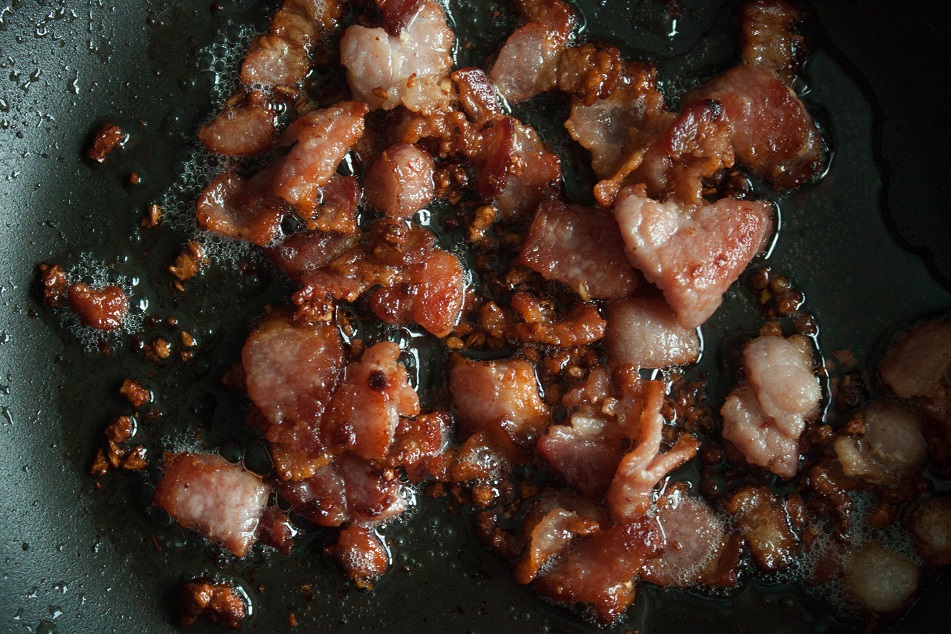 Add garlic and spinach. You can use whole leaves or cut them.
Cook bacon, spinach and garlic for another 1-2 minutes or just until spinach is wilted.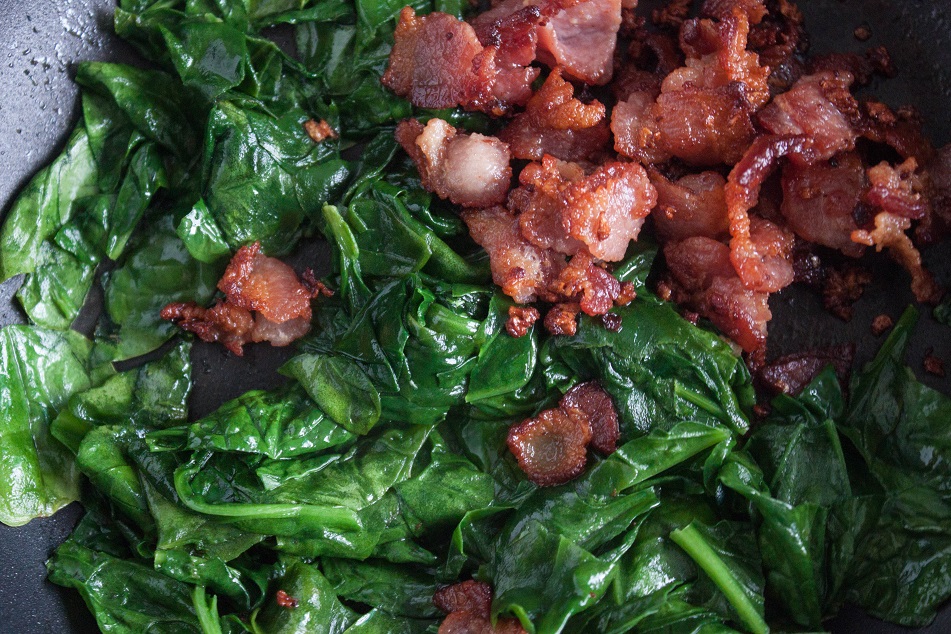 Remove from the heat and transfer the bacon-spinach mixture on the plate with paper towel to absorb the fat.
When the potatoes are cooked (the inserted knife easily goes through), remove them from the heat and drain the water.
Add cream cheese spread to potatoes and mash until smooth, but don't over mash because it will become gluey.
Stir in bacon-spinach mixture, taste to see if additional salt and pepper needed and serve.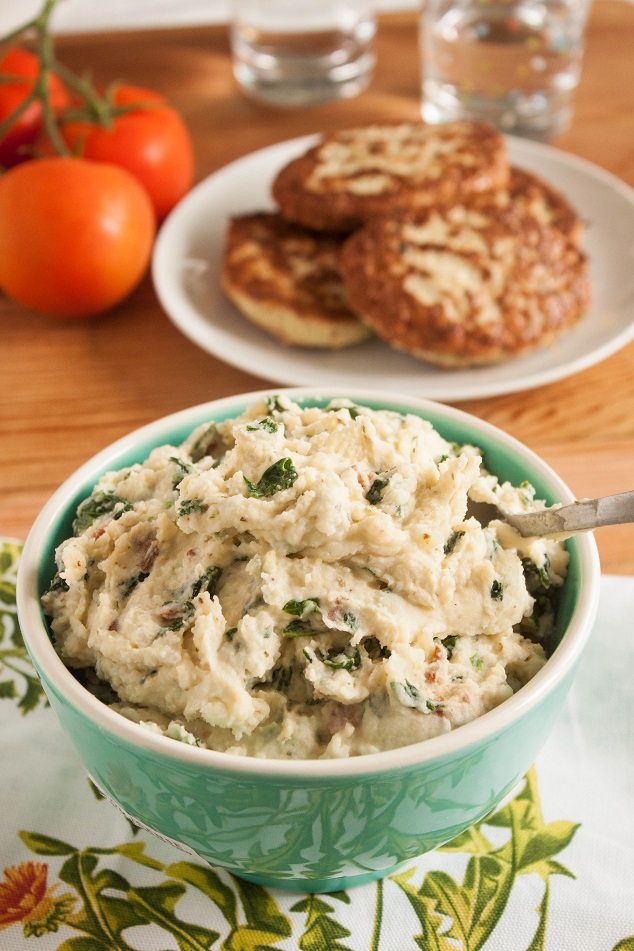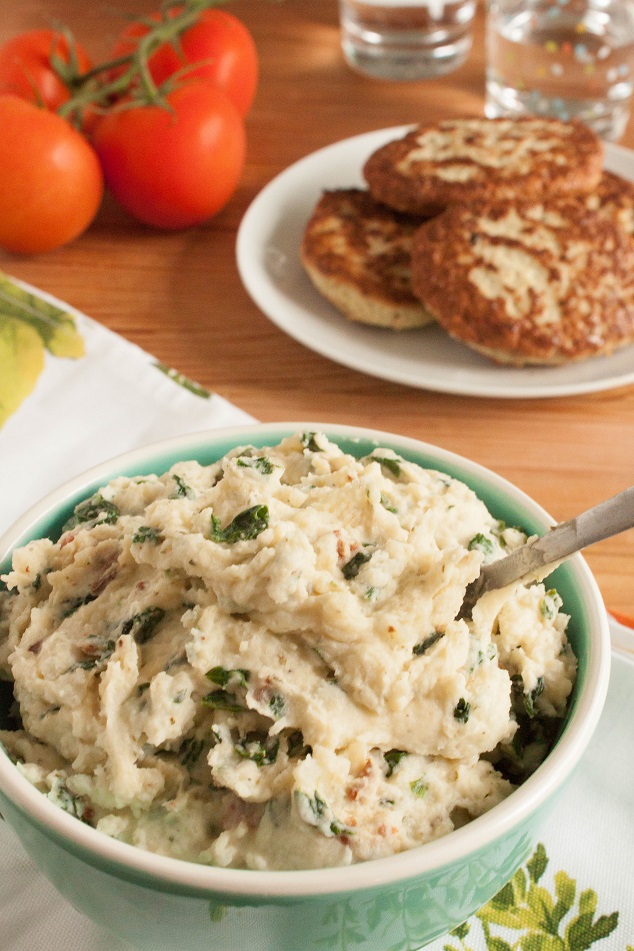 Ingredients:
900 g Russets or Yukon Gold potatoes (6-7 medium size), peeled and cut into chunks
2-3 slices of bacon
2-3 cloves garlic, minced or squeezed
6 cups baby spinach leaves
125 g Philadelphia Herb & Garlic Cream Cheese Spread, room temprature
Salt, pepper to taste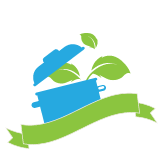 The Cooking Tale
Creamy Mashed Potatoes with Bacon and Spinach
I love mashed potatoes and they are my all-time favorite side dish. There is nothing more comforting than creamy and buttery mashed potatoes, and they are wonderful with everything: chicken, meat, or fish. This delicious side dish is loaded with taste and texture. Flavorful mashed potatoes enhanced with Herb & Garlic Cream Cheese, garlic, bacon and spinach are irresistible all year around and will add extra flavor to any family dinner or Thanksgiving celebration.
Ingredients:

900 g Russets or Yukon Gold potatoes (6-7 medium size), peeled and cut into chunks
2-3 slices of bacon
2-3 cloves garlic, minced or squeezed
6 cups baby spinach leaves
125 g Philadelphia Herb & Garlic Cream Cheese Spread, room temprature
Salt, pepper to taste
Salads & Vegetables
Side Dish
Please share this delicious recipe