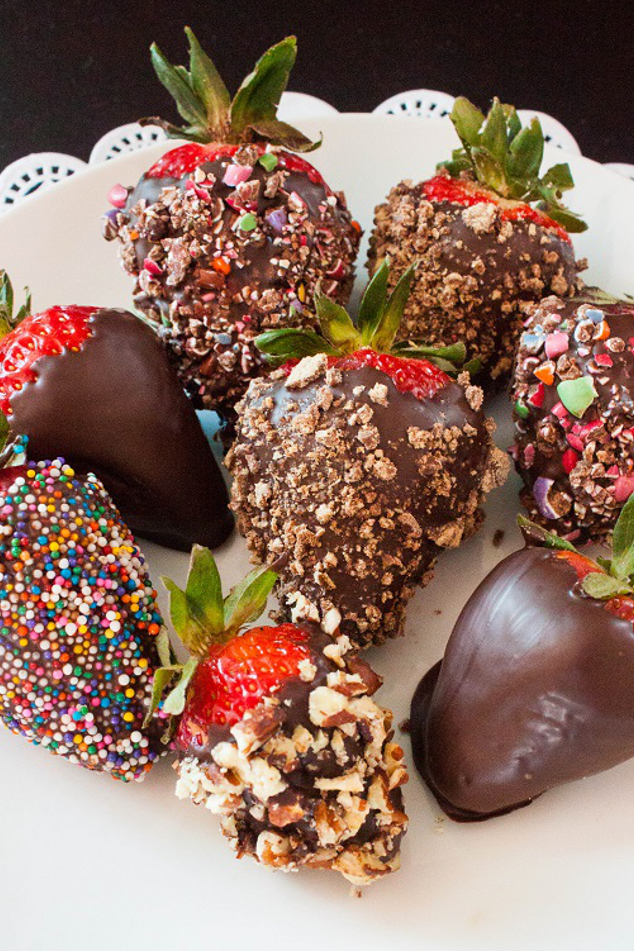 I live in Montreal and Boulangeries and Patisseries (bakeries) here are insane. The same goes for Chocolateries - it's like visiting Paris. The city is full of the most exquisite desserts and every day here is like Valentine's Day.
Everybody in my family has an enormous sweet tooth, so the desserts in our household are not reserved for holidays only, but a regular thing. The same goes for the fruits - I can't live without them, I have my favorites, but I love all of them. My daughter on the other side, is a huge fan of strawberries. She would eat them with waffles, crepes, and just like that. So, it wasn't really a surprise when she asked we make Chocolate-Covered Strawberries. Fortunately, it's a very easy project, so you don't need to wait for the Valentine's Day to make them. 10 minutes is all it takes, plus 30 minutes in a fridge. And voilà, you have this very impressive and delicious dessert!
Improvise and take it up a notch, adding nuts, coconut or candies. Have fun and bon appetite!
Ingredients
30 Strawberries
2 cups semi-sweet or milk chocolate chips
2 tbs. vegetable oil
1 Kit-Kat (45 gr), optional
8 nuts, crushed nuts (optional). I used pecans.
20 Smatries (optional)
Directions
Wash strawberries and dry on a paper or a kitchen towel. The strawberries must be completely dry, otherwise the chocolate won't stick. Do not remove stems.
On a stove over a low-medium heat, place the chocolate chips and oil in a heatproof bowl over a pan with simmering water. Cook until melted, stirring occasionally.
Remove from the heat.
Line a baking sheet with waxed paper. Holding carefully at the stem, dip strawberries one at a time in chocolate, twirling to coat.
Sprinkle some of the chocolate covered strawberries with crushed Kit-Kat, Nuts, Smarties or Sprinkles.
Refrigerate for about 30 minutes until chocolate is firm.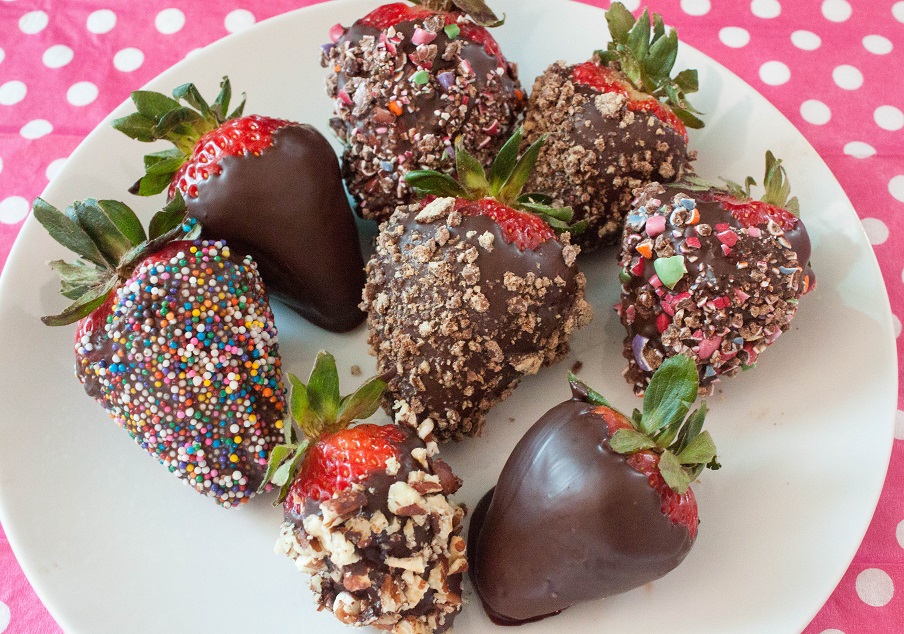 Desserts
Please share this delicious recipe