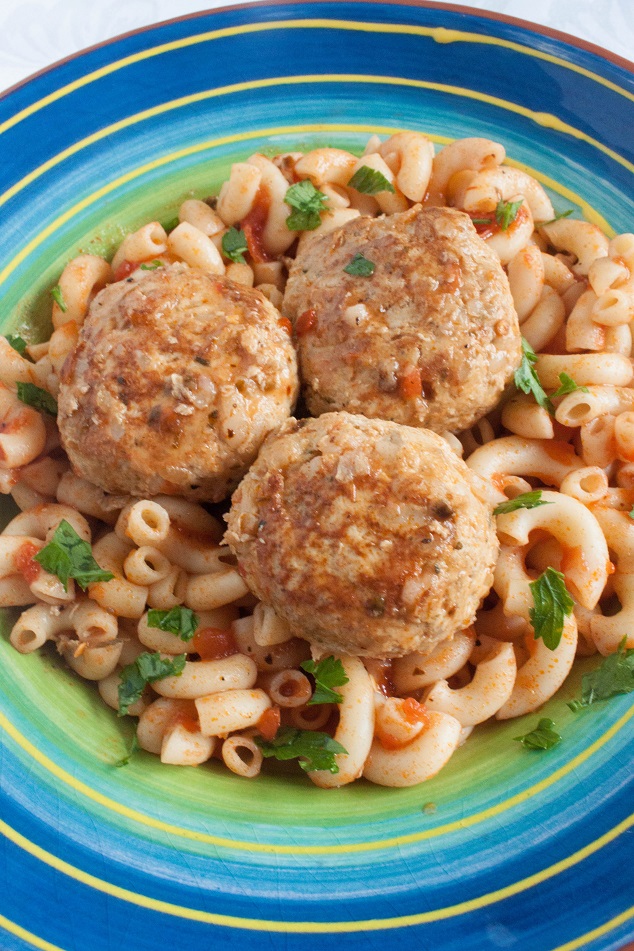 This recipe for meatballs – we call them "Tefteli" in Russian - I got from my Mom and they were prepared in our family for years. Easily done, with accessible and affordable ingredients, these meatballs are tasty, juicy and hopefully will become your family's classic as they became ours. These chicken meatballs are more tender and definitely healthier than their beef cousin, the texture is lighter and they are very tasty. We use rice instead of bread or breadcrumbs which makes the meatballs soft and the sauce is not thick like gravy, but you can substitute it for your favorite Tomato Sauce if you'd like. The pros of this light sauce is that you can eat the meatballs with a salad that not always goes well with the heavy and rich tomato sauce, but if you want, you can always add it to your pasta. The meatballs are also great with rice or mashed potatoes. They are a hit with kids and is the ultimate family friendly dish. This version of meatballs is low in calories because it calls for chicken which is lean and there is no cream in the sauce. The dish is great for lunch or dinner, it is budget friendly and can be stored in the fridge for up to a week (although I doubt they will last that long) and reheated. Searing the meatballs before cooking them will help hold a nice shape and will give them a golden color.
To make Tefteli I usually use the trimmings I have from making the Chicken Parmesan or Chicken Chops (Otbivnie), this way no meat is wasted. I use the Chicken breasts to cut a couple of perfectly shaped chops and I grind the trimmings to make the Meatballs or Kotleti. If you don't have a meat grinder, use the store bought ground chicken. As an option, the meatballs can be prepared from a mix of two kinds of meat, for example, chicken and pork.
Makes about 21 meatballs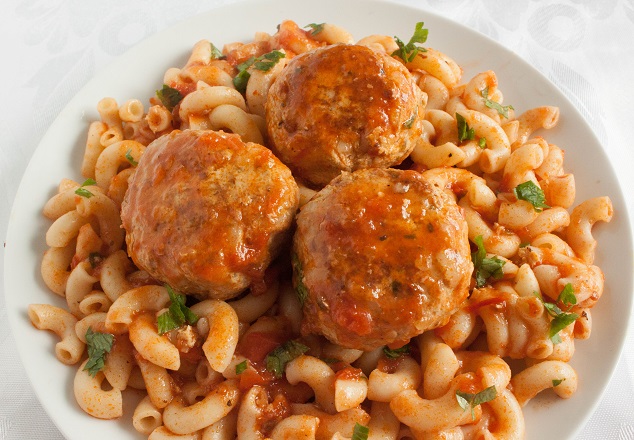 Ingredients
800 gr. Ground chicken
1/4 cup fresh parsley, grinded or finely chopped
1 medium onion, grinded or grated (grind the onion in a meat grinder or a small food processor or finely grate it)
grind the onion in a meat grinder or a small food processor or finely grate it.
¾ cup rice, cooked
1 tbs. Worcestershire sauce (optional)
Oil for frying
1/2 tsp. Black pepper
1-1 ½ tsp. salt
1/2 tsp. hot paprika
1/2 tsp. Italian seasoning
A pinch of red pepper flakes (optional)
2 garlic cloves, minced or squeezed
1 tbsp. butter
4 tbsp. tomato paste
1 tbsp. flour
2 bay leaves
Directions
Cook the rice according to the package instructions. You can use the white rice or the whole grain rice? - either one will work. Don't overcook it, you don't want it to be mushy. The rice can be cooked in advance.
To prepare the meat mixture, I grind the Chicken meat on a meat grinder, followed by parsley and then an onion. If you don't have a meat grinder, use the store bought ground chicken and grind the onion with parsley in a small food processor. You can also grate the onion or finely chop it.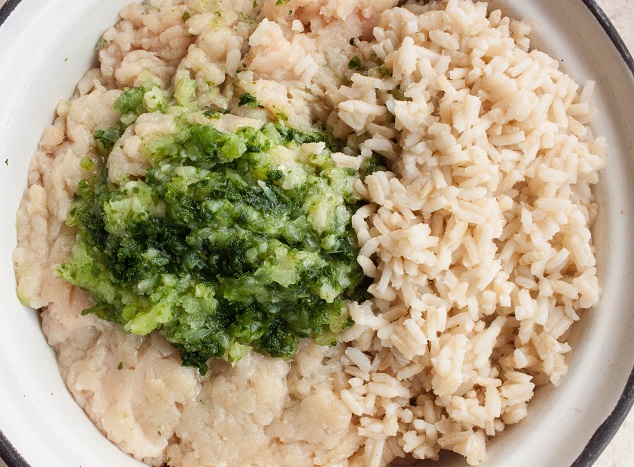 In a large bowl, mix the ground meat, cooled rice, onion, and parsley. Add 1 tsp. of salt, ¼ tsp. of black pepper, paprika, Worcestershire, Italian seasoning, and 1 clove of squeezed garlic. Mix and knead well until combined.

Beat the mixture by throwing it into a bowl a couple of times. By beating off the meat mixture you will remove the excess air which will make the texture of mixture more smooth and uniform, and meatballs will not fall apart during the frying. Scoop the mixture with a spoon and shape the meat into a 1 ½-inch balls. You can actually make them any size you want.

Pour enough oil into a frying pan to generously coat the bottom. Heat on the stovetop over a high heat until the oil shimmers and carefully add meatballs to the pan to avoid the splattering. Don't disturb the meatballs for at least 3 minutes to brown well. Flip them carefully one at a time with a spatula and fry on other sides until all the sides are browned.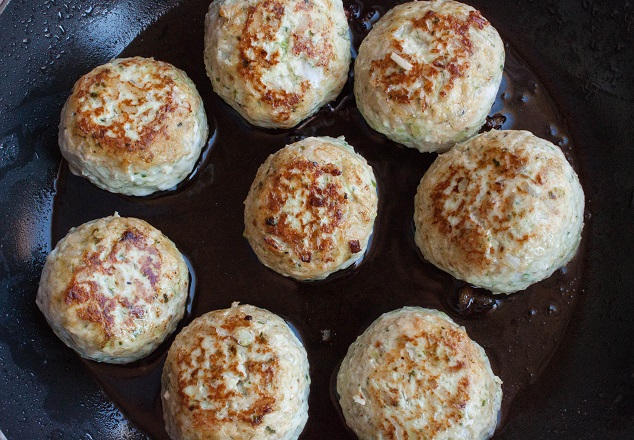 The meatballs shouldn't be cooked through at this point, just seared to get a nice golden color and preserve the shape. Look how pretty it looks!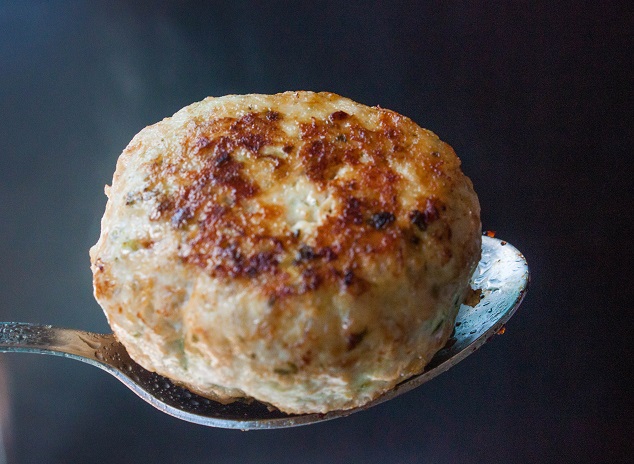 Change the oil in the process if needed.
Transfer the meatballs to a big non-stick cooking pot, cover completely with water.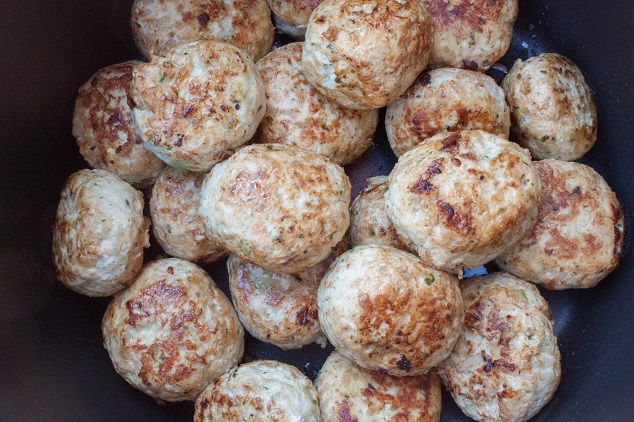 Add the remaining salt, pepper, red pepper flakes, garlic, and bay leaves. Cover the pot and place it on the stove over a high heat.
When the water is starting to boil, reduce the heat to low and add a tomato paste. Mix carefully to dissolve.
In a small frying pan over a medium heat, mix together flour and butter, stirring constantly to prevent the lumps. When the flour is dissolved, add about 3 tbsp. water and mix to combine. Transfer the flour mixture to the pot with meatballs to thicken the sauce.
Cook the meatballs covered or partially covered for about 20-25 minutes.
Serve hot meatballs with your favorite pasta, potatoes or a fresh salad.
Ingredients:
800 gr. Ground chicken
1/4 cup fresh parsley, grinded or finely chopped
1 medium onion, grinded or grated (grind the onion in a meat grinder or a small food processor or finely grate it)
grind the onion in a meat grinder or a small food processor or finely grate it.
¾ cup rice, cooked
1 tbs. Worcestershire sauce (optional)
Oil for frying
1/2 tsp. Black pepper
1-1 ½ tsp. salt
1/2 tsp. hot paprika
1/2 tsp. Italian seasoning
A pinch of red pepper flakes (optional)
2 garlic cloves, minced or squeezed
1 tbsp. butter
4 tbsp. tomato paste
1 tbsp. flour
2 bay leaves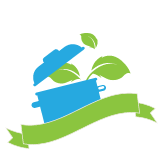 The Cooking Tale
Chicken Meatballs with Rice - Russian Tefteli
This recipe for Chicken meatballs with Rice - we call them Tefteli
Ingredients:

800 gr. Ground chicken
1/4 cup fresh parsley, grinded or finely chopped
1 medium onion, grinded or grated (grind the onion in a meat grinder or a small food processor or finely grate it)
grind the onion in a meat grinder or a small food processor or finely grate it.
¾ cup rice, cooked
1 tbs. Worcestershire sauce (optional)
Oil for frying
1/2 tsp. Black pepper
1-1 ½ tsp. salt
1/2 tsp. hot paprika
1/2 tsp. Italian seasoning
A pinch of red pepper flakes (optional)
2 garlic cloves, minced or squeezed
1 tbsp. butter
4 tbsp. tomato paste
1 tbsp. flour
2 bay leaves
Step by step:
Meat & Poutry
Please share this delicious recipe