Feb 23, 2018, 10:13 AM
We just came back from our first visit to beautiful Curacao. And here is the short report of our 7 blissful days in Paradise.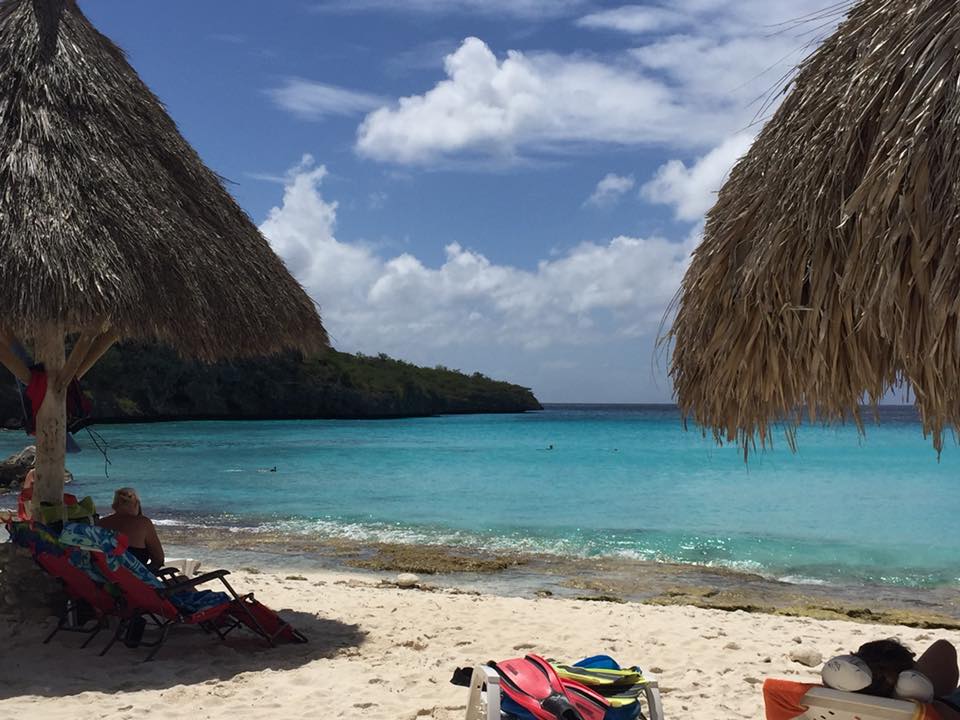 Day 1: We arrived with the direct 5 hour flight from Toronto and landed at 5:30 pm. Picked up a car for the first time splurging on a convertible from D&D. We checked into hotel and went out for dinner. It was Valentine's and we had a reservation at Rozendaels for dinner. Unfortunately, it was raining and when we arrived they didn't have an available table in the garden because only half of the tables were under the roof. We were offered to sit inside, looking directly into the wall, so we opted out and left. We went to the hotel but both restaurants at Avila were fully booked because of the Valentine's and the reception called and made the reservation at Scampi.
Dinner at Scampi's restaurant was overpriced and very average. The view was lovely. It was raining so we went straight to the hotel.
Day 2 : Stayed at Avila in Blues room on the second floor, right on the water. Gorgeous room with an amazing view. It was magical to fall asleep and wake up to the sound of waves. The weather was perfect with no rain in sight.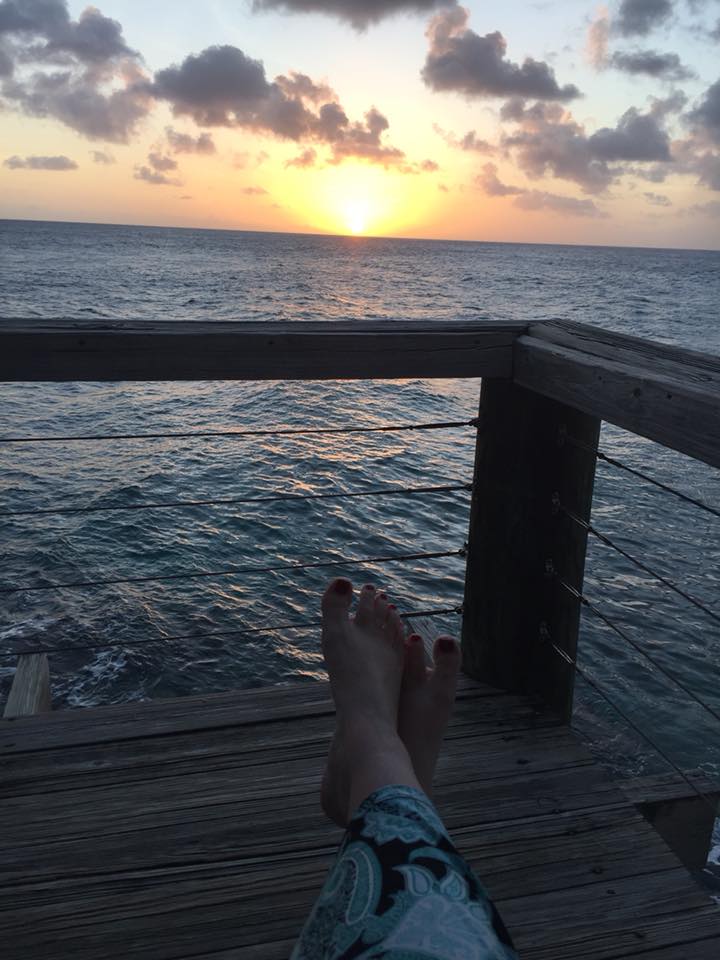 The beach at Avila was good , it wasn't busy or noisy. Sandy, clean, with calm beautiful water and plenty of shade. You can snorkel there as well. In the morning we went to Van den Tweel Supermarket to buy staff for the breakfast and some fruits for the beach. Had lunch at Avila, tasty, but pricey. Before dinner, we went to Willemstad to explore. Loved it!
As it was Thursday, we made dinner reservations for Blues Bar & Restaurant at Avila for Live jazz night. The music started at 10 and it was great. The food, the view and fireworks that were seen from downtown - all in all a truly pleasant experience.
Day 3 : We decided to spend time on the West part of the Island and drove to Shete Boka park in the morning. It was nice, took us an hour to see everything. It was too late and hot to explore the Mt. Christoffel, so we decided to skip the hike.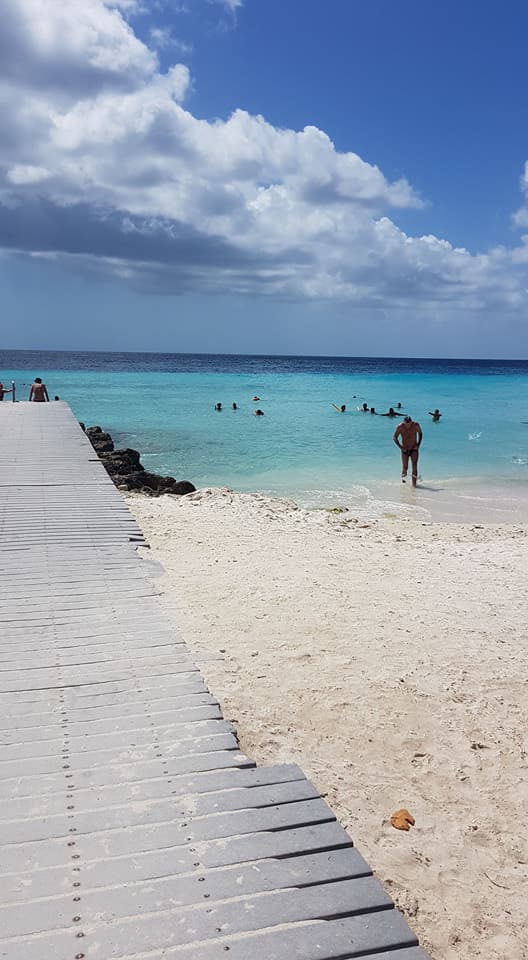 We went to Sol food restaurant for lunch and had their famous pizza, burger and brownies. The food was good and the view was beautiful. I still couldn't believe that we are wearing shorts and T-shirts in the middle of February :)
After that, a very short drive to Playa Grandi to swim with turtles. It was very cool! Then to Klein Knip with the absolutely gorgeous turquoise water and white sand. We stayed there until late afternoon and went back to the hotel. Watched the most wonderful sunset from our balcony.
We had a reservation at Rozendaels and this time it wasn't raining and we had a very tasty dinner, our best on the island.
Day 4 : We decided to stay at Avila and enjoy the day at the beach. Had lunch at St Topez Club, 5 minutes' walk from Avila. We ordered different things but everything was absolutely delicious and the view...well..no words needed!
We didn't have dinner reservation as we decided to go with the flow :) We checked Mundo Bizzaro, but their music was supposed to start only at 10 pm and the menu wasn't worth staying without it. We walked around taking pictures and enjoying the warm lovely weather. Curacao is very pretty and has a beautiful architecture. European style colorful houses with amazing architectual details. We ended up at Iguana Café. They had a beautiful Latino live music and the terrace was overlooking the water, Queen bridge and the harbor. The food was good and the setting was even better.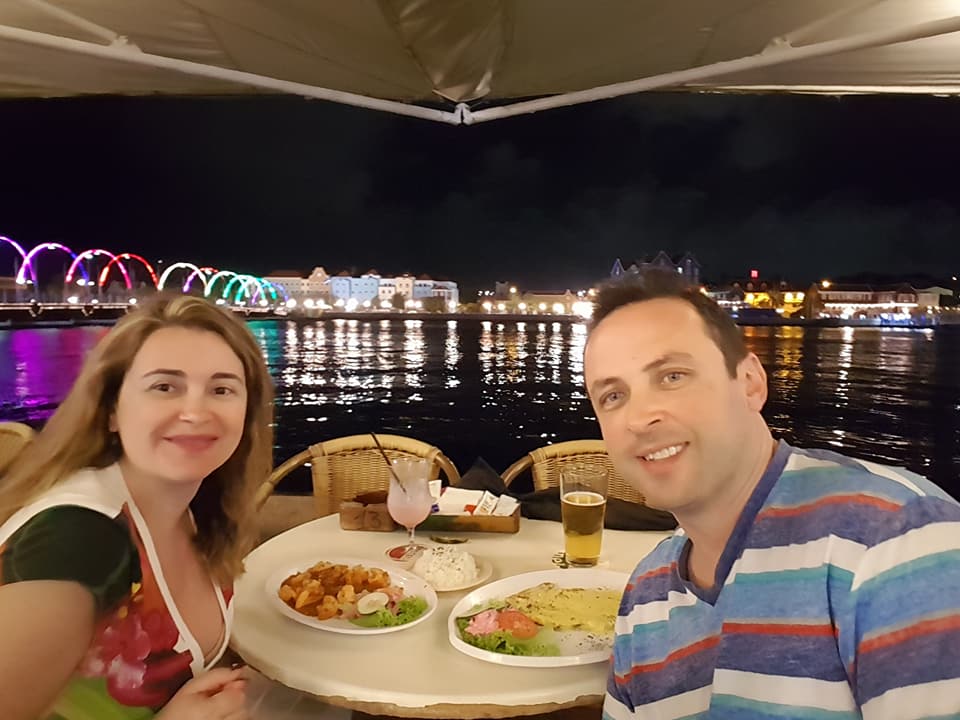 Day 5 : We woke up to the sound of waves and enjoy the breakfast on the balcony. Can you get use t the Paradise?.. Went to PortoMarie beach. Stopped on the way at Salt flats to see flamingos. I saw flamingos before, but never saw them flying. It's beautiful, their wings pink on top but dark on the inside :)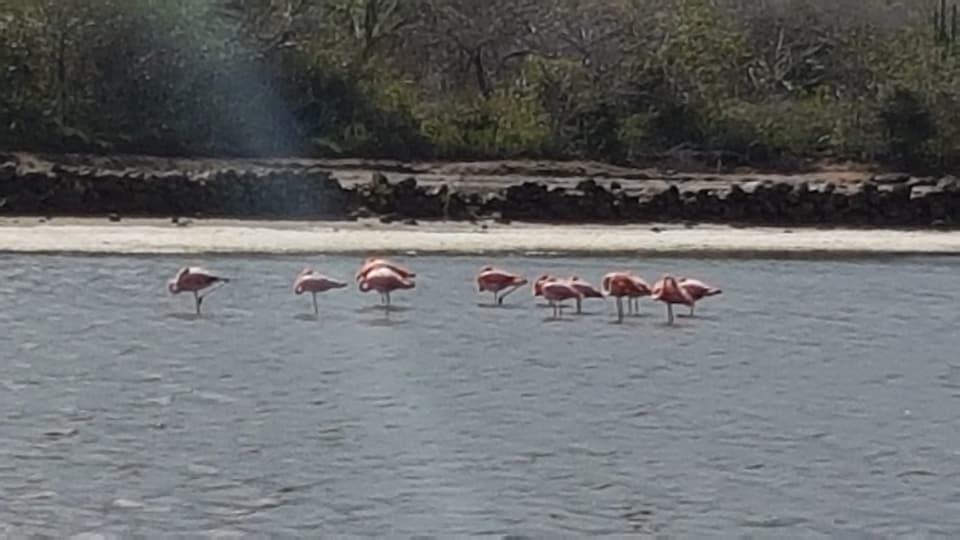 We really liked PortoMarie beach, beautiful turquoise water, plenty of shade, white sand and 2 pets - read hair pigs :) They have a restaurant on the beach, where we ate the lunch. On the way back from the beach, we stopped at Centrum Supermarket to get some staff for breakfast and more fruits.
Dinner at Restaurant Gouverneur de Rouville. Their banana soup was amazing, I think I could eat it every day :) The main dish was just average, ok, but nothing special. We decided not to stay for dessert, but go for a walk in Town and then to go to Fort Nassau for the dessert. It's a beautiful place and the dessert was good.
Day 6 : Spend the day at Avila Beach. We planned to spend the day at Mambo beach, but when we arrived there, we didn't like it. The lounging chairs were packed so close! It was not "islandy" and beautiful at all like all other beaches we visited so far and we decided to go back to Avila beach. Walked to St Tropez Club for lunch. We couldn't get enough of their St Tropez chicken satay and freshly squeezed lemonade. It is sooo delicious and the view is amazing!
Dinner at The Wine Cellar. What sets apart this restaurant is the service. The food is good, but the service is outstanding. It is hard to explain, but they make you feel very special.
Day 7 : We went to Cas Abao beach and spent the day there. Very beautiful, picture perfect beach with white sand and clear turquoise water. Great snorkeling with lots of interesting fish. They have a small café on the beach with food and drinks so we stayed there until about 5pm. Before leaving to the beach in the morning we made the reservation at Rozedaels restaurant and were lucky to get a table. Another enjoyable meal, our last dinner on the Island.
Day 8 : We had breakfast on the balcony like every other day. We spend the morning at Avila beach and at noon brought our luggage to the storage room at the reception. Stayed at the beach until 2:30 pm and got a small room with shower to clean up and get dressed. We had lunch at St Tropez again - the same chicken satay, it was so good that we didn't want to risk it by trying something else :) This time we had a dessert as well. We had a long road ahead of us and we wouldn't have the dessert for dinner, right? We went outside and took pictures of a few very colorful buildings next to St Tropez. They are so beautiful!
We returned our car at D&D and went to the airport, back to our Canadian winter.
We fell in love with Curacao. We loved everything about this island: architecture, colors, beaches, food. We can definitely see ourselves coming back in the future.